The Comox Valley Pipe Band is a community based organization dedicated to the preservation and enhancement of Scottish culture in the Comox Valley. Established as a registered non-profit society in 1985, the band regularly participates in a wide variety of parades, community events and Highland gatherings as well as providing individual piping and drumming services for special events. The Band is particularly proud of the large number of young students which have been introduced to piping and pipe band drumming through its' training programmes. Many of the current band personnel were trained from within the band organization.
Upcoming Events:
Beginning March 6: All band practices Monday AND Wednesday will be in the Library, except where this bulletin board has an exception.
The following Monday Full Band practices will be in the multipurpose room:

March 11, April 8, May 13

The following Wednesday chanter-pad practices will be in room 205:

April 10, April 17, April 24
Monday April 22: No practice: Easter
Thursday June 6: Cadet final inspection practice 6pm Base Arena
Saturday June 8: Cadet inspection. 12:00 for 1:00 Base Arena
Thursday June 27: Vanier Grad 5:00 for 5:45 Sports Centre
This years Okanagan Military Tattoo takes place July 27th and 28th, and has added a one day Drum Major Seminar on July 26. Open this post then click on this link to read the details: OMT 2019 Drum Major Seminar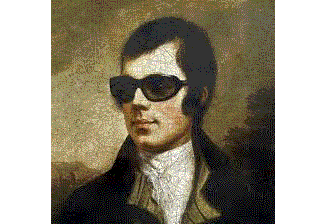 The Comox Valley Pipe Band, along with many generous supporters had a great time at our annual Robbie Burns Dinner. Highland dancers, a featured singer, and of course many tunes by the band. Thanks to Alison Fraser for submitting photos. Open this post and Click Here to view the photo gallery.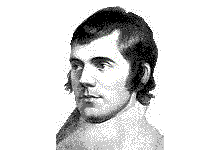 Held at RCL Comox Branch 160 on January 26. Opens at 6:15, with Dinner at 7:00. Tickets are $40. Call Anna at 250-465-8260.
Hundreds of pipers around the world have registered for a once-in-a-lifetime tribute to mark the centenary of the end of the Great War.  This tribute kicks off at 06:00 (local time), Nov 11, with pipers around the world playing of the well known retreat march, 'When the Battle's O'er'. http://www.collegeofpiping.org/register-battles-nations-tribute/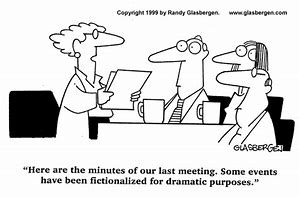 Annual meeting will be held November 14 at 7:00 in Isfeld school room 205. All members should attend. Practice to follow if time allows.
World Pipe Band Championships 2018. Bob has downloaded the performances by the top 6 Grade 1 MSR & Medley finishers. A DVD and audio CD has been produced. Both DVDs & CDs available at $2 each (to offset cost of disks/labels), alternately the video and audio are also available as a mp4/avi or mp3 filesContinue reading →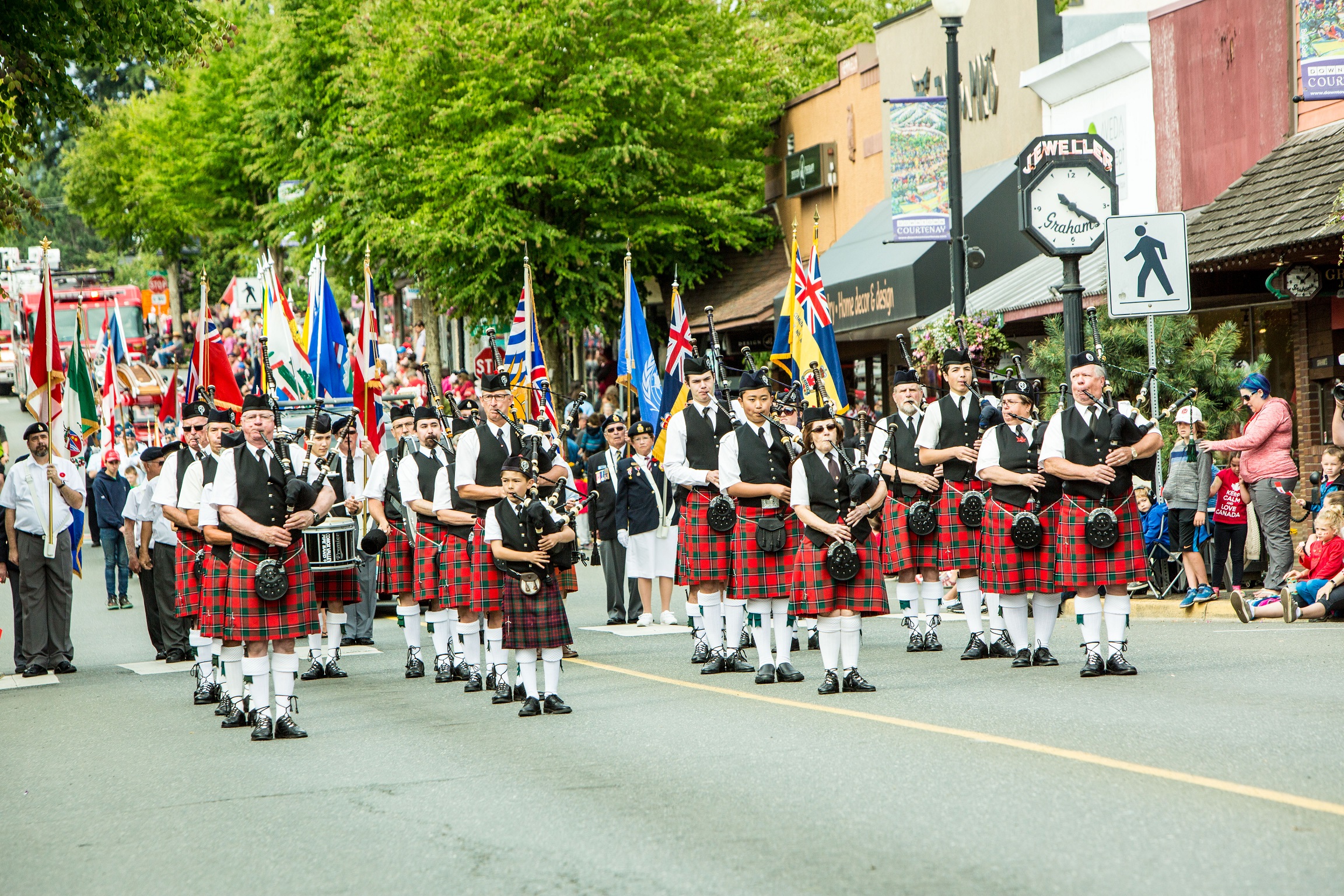 Great turn out by the band played to enthusiastic crowds. COURTENAY_BC_July 1_2018: BC: Canada Day Parade down 5th Street. Photo by Kim Stallknecht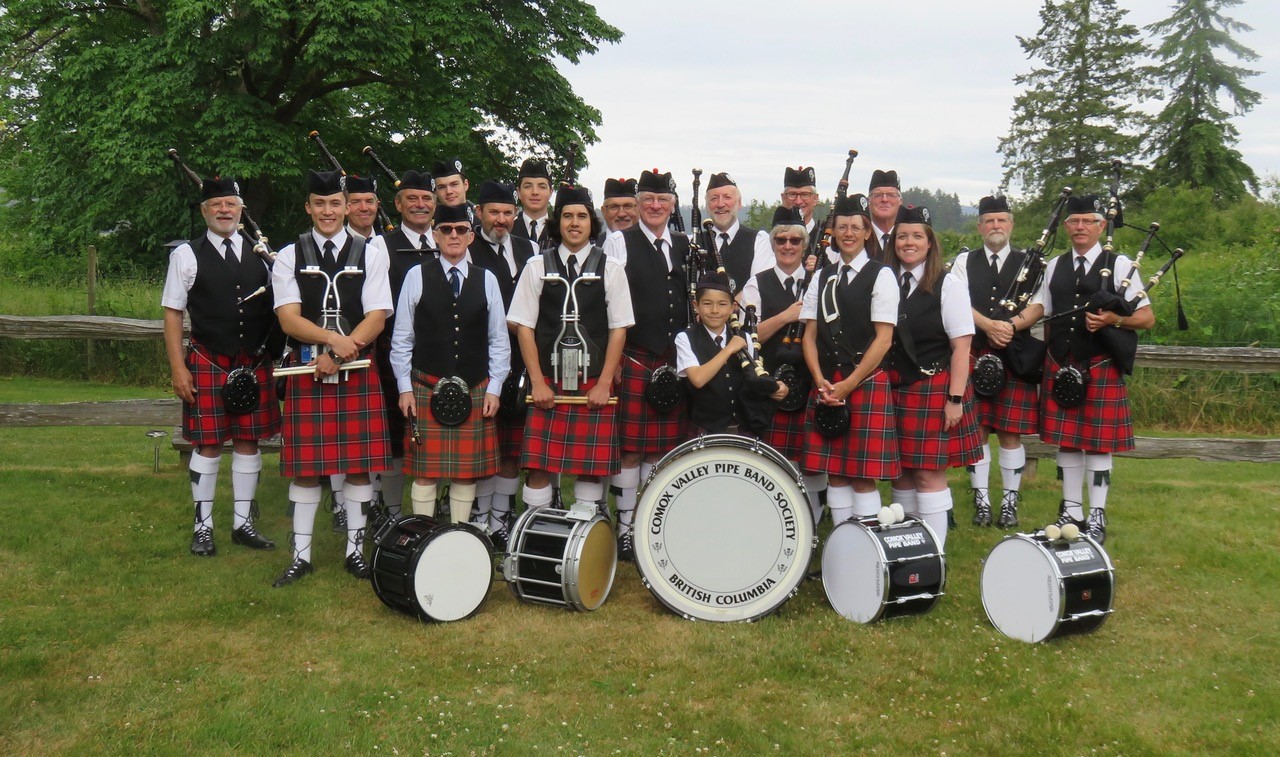 Great friends to play music with, fantastic location, friendly atmosphere, and a few pints all to help celebrate Fanny Bay Inn's 80th anniversary.
Great band turnout for the Cumberland Victoria Day parade. Play down Dunsmuir Ave followed by a massed band (5 bands attended) then slowly making our way back up the street entertaining in each 'watering hole' found along the way.  Well done.