The Comox Valley Pipe Band is a community based organization dedicated to the preservation and enhancement of Scottish culture in the Comox Valley. Established as a registered non-profit society in 1985, the band regularly participates in a wide variety of parades, community events and Highland gatherings as well as providing individual piping and drumming services for special events. The Band is particularly proud of the large number of young students which have been introduced to piping and pipe band drumming through its' training programmes. Many of the current band personnel were trained from within the band organization.
Practices @ 888 (Stocky Edwards) Wing Club House
Monday full band practice at 7 pm
Wednesday Chanter/Pad practice at 7 pm, fall start Wednesday September 13th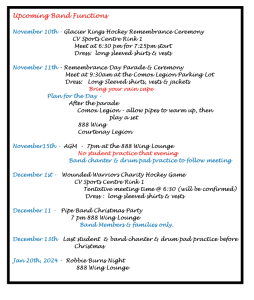 Barry Shears on YouTube I finally got around to adding a new recording of bagpipe music to my YouTube channel. It will be the first of several new ones I hope to complete in the next week or so: Barry plays a selection of jigs on the Highland Bagpipe from some his published works NextContinue reading →
Will be held on January 21 at the Comox Legion. Tickets available to band members until January 6, then available to general public.